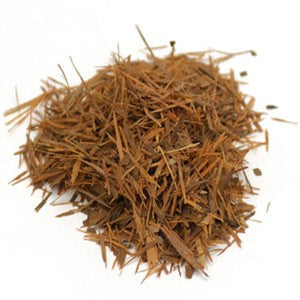 Pau D'Arco Bark Cut & Sift
Regular price $10.00 Sale
How to Make: In order to use pau d'arco bark you'll need to turn it into a decoction.
A decoction is different than a tea in that you actually simmer the bark in water for a few minutes rather than just letting it steep.
Many of the active ingredients in pau d'arco will resist heat for a while, and you'll need to boil the bark for a while to pull it out of the densely packed cells that make up the wood.
For dried bark made into a decoction you should prepare a 1:30 ratio of water to dried bark. I usually use 100 grams of bark with 3 L of water to use for a couple of days.
You could also make smaller batches with 50 grams of bark and 1.5 liters (6 cups) of water.
Boil the bark for about 30 minutes until about 30% of the water is boiled away (leaving you with a 1:20 ratio for the final product).
This tea can then be refrigerated and drunk over the next couple of days.
How to take: 
Drinking it for serious problems like Candida, you should aim to drink about a cup (250 mL) every 4-6 hours for the first 2 weeks, then reduce to a lower dose after you start seeing improvement.
Please know that you should not take pau d'arco if you are on blood thinner or are pregnant or breastfeeding.
The Pau D'Arco tree has a big benefit to match its size. Also called the Purple Trumpet Tree, it grows up to 125 feet high and has beautiful purplish-pink flowers. Its inner bark has been used in traditional medicine for centuries to help support immunity.*
Botanical Name: Tabebuia avellanedae (inner bark of a Tabebuia tree)
Pau D'Arco is widely cultivated in warm countries such as Venezuela, Brazil, Argentina, Mexico, Cuba, and the Dominican Republic. It has been prized by indigenous tribes in Brazil, Argentina, and Paraguay for its medicinal properties.
Pau D'Arco Bark is often brewed to make a smooth, earthy, and subtly sweet tea. 
Common Names
Ipe, lapacho, purple lapacho, trumpet bush and taheebo
Quality: We source our bulk supply from organic and pharmaceutical grade manufactures. Our bulk herbs, spices and nutraceutical products are free from chemicals and pesticides and are never irradiated or fumigated. In addition, our products are dried using low heat under 120 degrees

Our products do not contain maltodextrin or added ingredients such as sugars or fillers. We sell 100% pure, safe, and effective products.

Secure Packaging: Our products are packaged using a re-sealable food grade bag that blocks UV light and moisture. All our products are safety sealed for our customer's safety. Our dark colored bags are specially designed to ensure the freshest product possible.

Lab Tested: The products we sell are lab tested for pesticides, metals, and microbiological agents. If a product doesn't meet our quality standard it is rejected or sent back to the manufacturer.

Shelf Life: Our products will maintain their freshness and integrity for up to 18 months after purchase in our sealed bags or 6-9 months after seal is broken. Customers should store products in a cool dark place to ensure full shelf-life. Bulk products are sourced on a weekly basis to ensure our supply is always fresh.

*Disclaimer: This product is not for use by pregnant or lactating women. Consult your healthcare practitioner before use if you have or if you had any previous health condition that you are taking any medications for including OTC medications or if you are planning a medical procedure. Discontinue use immediately and contact your healthcare provider if any adverse reactions occur. This product is not intended to diagnose, treat, cure, or prevent any disease. Not intended for persons under age 18.
Disclaimer: These statements are not FDA tested and has Pau D'arco not been FDA approved as a treatment or cure for any health problem, including cancer.